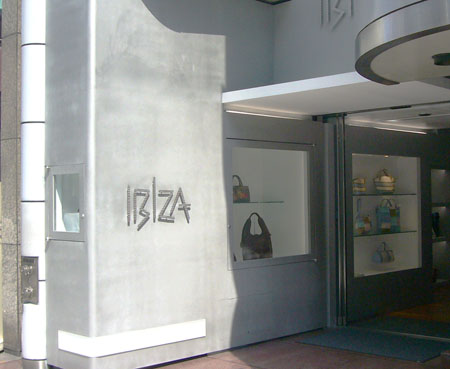 Completed Exterior Appearance
Concept:
The Ibiza brand emphasises the texture of leather and specialises in handmade bags. The brand was born in 1968. Beautiful 'IBIZA' island, located in the Mediterranean Sea, is used as the motif of the brand. In renovation of the Ginza shop, walls, storage space and signage were unified in order to make full use of the long narrow space.
Style & Features:
Shop Window - Steel Plate (Thickness=4.5mm) (Boxed Set)
Display Shelf - Steel Plate
(Thickness=2.3mm) (Folded-Curved Plate)
Wall - Steel Plate (Thickness=3.2mm)
+Steel Decks (Thickness=1.2mm)

For the purpose of reducing wastage in the renovation, wherever possible steel has been used as a recyclable material. We tried to finish the work through planning to construction in the shortest possible time.